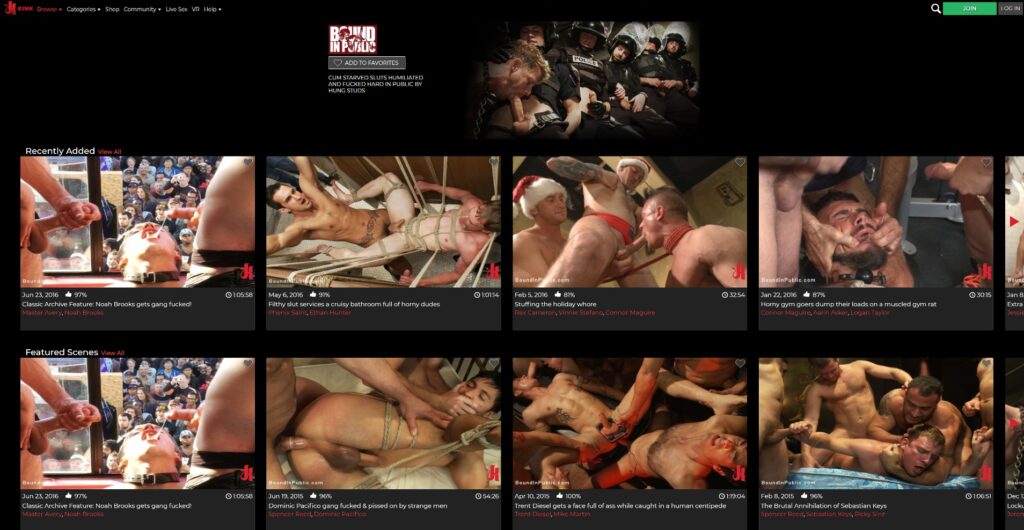 219 Public Gay Tortures, Bondage and GangBang!
Genres: Gay Public, Gay BDSM, Gay Fetish, Gay Tortures, Gay Domination
Rip Date: April 2021
Description of "Bound In Public": Bound In Public SiteRip – another gay BDSM porn site from Kink studio! The subs are willing and eager, the doms are strong and controlling and the action is so erotic and arousing that I'm not sure who has the biggest torment – they guy being worked over or me trying to edge myself, holding off from shooting my load until I can reach the end of the scene. Highly recommended.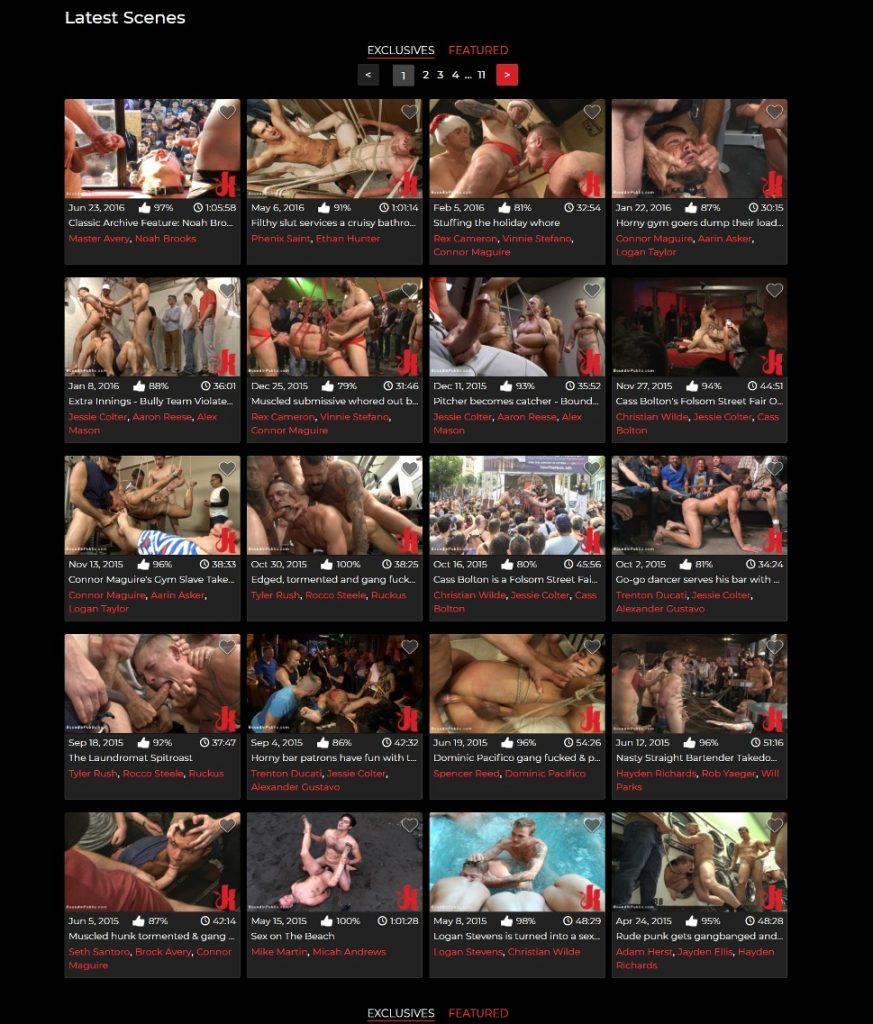 Bound In Public is a specialist public BDSM gay porn site brought to you by the genius minds of the men at Kink Studios. This is BDSM at its absolute best – nothing too hard core that is hard to watch, but this is safe and perfectly controlled restraint, discipline and corporal punishment. Normally my kind of sexual fantasies are fairly vanilla – just big cocks fucking tight asses, muscular masculine men who shoot their cum all over each other.
Screenshots galery: Click here to view all screenshots in galery
Download Bound In Public SiteRip
1 – Classic Archive Feature: Noah Brooks gets gang fucked!
2 – Filthy slut services a cruisy bathroom full of horny dudes
3 – Stuffing the holiday whore
4 – Horny gym goers dump their loads on a muscled gym rat
5 – Extra Innings – Bully Team Violates Pitcher in the Showers
6 – Muscled submissive whored out by santa for the holidays
7 – Pitcher becomes catcher – Bound stud takes a baseball bat up his ass!
8 – Cass Bolton's Folsom Street Fair Orgy Continues!
9 – Connor Maguire's Gym Slave Takes on a Weight Room Full of Cocks
10 – Edged, tormented and gang fucked in a dirty laundromat
11 – Cass Bolton is a Folsom Street Fair Whore
12 – Go-go dancer serves his bar with mouth & ass for SF Pride
13 – The Laundromat Spitroast
14 – Horny bar patrons have fun with the hot go-go dancer for SF Pride!
15 – Dominic Pacifico gang fucked & pissed on by strange men
16 – Nasty Straight Bartender Takedown
17 – Muscled hunk tormented & gang banged in a stairwell full of horny men
18 – Sex on The Beach
19 – Logan Stevens is turned into a sex slave at a campground
20 – Rude punk gets gangbanged and shoved in the dryer at the laundromat
21 – Trent Diesel gets a face full of ass while caught in a human centipede
22 – Naked ripped stud gets humiliated and used in a crowded public bar.
23 – Bound hunk publicly tormented and gang fucked for his first Dore Alley
24 – Lazy employee abused and humiliated by coworkers at Stompers Boots
25 – The Brutal Annihilation of Sebastian Keys
26 – Lockup, Cell Extraction & Prison Gang Fuck
27 – Public Whore Doused with Piss on the Folsom Stage
28 – Brutally fucked, drenched in piss & covered in cum
29 – Cock Hungry Whore Gang Fucked at Mr. S Leather
30 – Muscled mechanic, bound, fucked from both ends, and doused with cum
31 – HAPPY HALLOWEEN! – Halloween Whore Gang Fucked by the Horny Crowd
32 – Folsom Street Virgin
33 – Hot art thief with a big cock beaten and fucked into submission
34 – Relentlessly flogged, drenched in cum and tickled to the extreme!
35 – BIP crew infiltrates Bond-Con & makes straight stud take tons of cock!
36 – Publicly humiliated, asshole zapped, and covered in strangers' cum
37 – Officer Avery's Nightmare
38 – Bar Slut Gang Fucked and Covered in the Crowd's Cum
39 – Giant cock stud relentlessly fucked & tossed around like a ragdoll
40 – Beard full of cum – Bound stud fucked with machines and cock alike!
41 – Muscled stud worships feet and takes cock after cock in bondage
42 – Pissed off landlord gangfucked into submission by horny party goers
43 – No one can hear you scream!
44 – Foot sucking whore humiliated & gang fucked in a bar full of horny men
45 – Giant cock whored out to the horny public
46 – HAPPY SF PRIDE EVERYONE!
47 – "Give the cheap whore what he deserves!"
48 – Bathroom whore stuffed full of cock and covered in cum
49 – "I PROMISE I'LL PAY!!!"
50 – Bound whore gang fucked like an animal in a packed bar
51 – Ripped, muscled stud gang fucked by horny dudes & smothered with feet
52 – Shut up and take our cocks you fucking loser!
53 – THERE'S NO MERCY IN FUCKING!
54 – Cruising for a Gangbang
55 – We're going to get our money's worth, one way or another…
56 – Muscled whore gets publicly fucked and doused with cum
57 – Brandon Atkins gets a prison gang fuck
58 – When in Rome, torment and gang bang!
59 – Greedy whore stuffed full of cock at a local clothing store
60 – Horny crowd mercilessly gang fucks a bound hung stud against his will
61 – Hung stud has his balls stretched, ass gang fucked, & prostate milked
62 – PUNISH THE ESCAPED GLADIATOR FOR HIS CRIMES AGAINST ROME!!!
63 – Hairy perv gets taken downtown & gang fucked by the whole jail house
64 – Horny cruisers cover a bathroom slut with cum and piss
65 – Connor Maguire's House Party
66 – Bathroom pig whored out to the horny public
67 – Horny party goers gangbang and fist a bound stud's ass
68 – Pissed off janitor fucked in bondage by horny bathroom cruisers
69 – Bound hunk with an uncut cock gets gangfucked by a crowd of horny men
70 – Bound stud whorred out at a local sex shop
71 – Muscled stud with a big dick cattle prodded and gang fucked
72 – Thankful For Cock
73 – Greedy whore gang banged by horny dudes at a local balloon shop
74 – Boot shop slut abused and gang fucked by coworkers
75 – Folsom Street Whore tormented in front of thousands of people
76 – Hot ripped stud tormented and gang fucked at local sex club
77 – Horny Crowd Torments Bound Muscled Stud for BIP's Pre-Halloween Party
78 – Sexy stud Cameron Kincade – The Folsom Street Whore
79 – Bathhouse whore tormented and gang banged by a horny crowd
80 – Ripped go-go boy beaten, fucked and covered in cum
81 – Cock hungry whore cattle prodded and fucked at Dore Alley Street Fair
82 – Hot sex shop thief fucked in the back arcade
83 – The Balloon Shop Whore
84 – Cum slut fucked by party goers and tossed in an oil orgy
85 – Gangbang and cum for a stuck up go-go boy
86 – Horny crowd gang bangs a young stud at the playspace of Mr S Leather
87 – Southern stud gets fucked and showered with cum in front of 100 men!
88 – Wax and Gang Bang a Muscled Stud with a Fat Cock
89 – Punk Gets His Balls Stretched and His Hole Fucked by a Crowd of Men
90 – Hot ripped stud gets punished and gang fucked by a crowd for stealing
91 – The BIP doms take down one of their own in a local clothing store
92 – Ripped stud with a giant cock get used in a crowded bar
93 – Ultimate Humiliation, Beating and Gang Fuck
94 – Muscled stud has had enough but the horny crowd says no
95 – Sexy Stud's Wet and Wild Fantasy
96 – Holden Phillips wants to be used and humiliated to the extreme
97 – Ripped, hung stud gets used and abused in a clothing store
98 – Cameron Kincade's Dirty Fantasy
99 – Nasty Bartender Humiliated and Gang Fucked by Angry Crowd
100 – Muscle stud Mitch Vaughn tied up and used in a public bar
101 – Ripped stud is made to play spin the bottle BIP style
102 – Lockup, Cell Extraction & Prison Sex – Part Two
103 – Loudmouth Gym Freak Fucked and Pissed on in Boxing Gym Locker Room
104 – Straight stud gets gang fucked in a crowded cruising bathroom
105 – The Feisty Slut Go-Go Dancer
106 – Loudmouth muscle-head gets taken down and gang fucked at a boxing gym
107 – Sebastian Keys Insane Birthday Bash
108 – Kirk Cummings is beaten, humiliated and fucked in a crowded bar
109 – Skater Punk Gets What He Deserves
110 – Doms turn on one of their own in the victim game – Part Two
111 – Feisty Birthday Slut
112 – The Big Stage Performance at Hustla Ball Berlin 10th Year Anniversary
113 – Blake Daniels the Holiday Whore
114 – Stud in a metal cage is fucked by horny bar patrons
115 – Happy Holidays!
116 – Naked and humiliated in front of thousands of people
117 – Horny crowd jumps on a ripped stud in a skate shop
118 – The Victim Game – BIP doms turn on one of their own
119 – Sexy stud endures electricity, cocks and feet in a clothing store.
120 – HustlaBall Berlin 2012 – Ich bin eine Deutsche Schlampe
121 – Bryan Cole is fucked in front of 100 horny men
122 – Fresh Southern meat gets used in a clothing store
123 – Naked Pandas Trick or Treat – Just in time for Halloween
124 – A handsome hunk gets ganged up by 100 horny men during Folsom weekend.
125 – Corporate cunt gets his mouth and ass violated by a mob of horny men.
126 – Tickle Torment A Ripped Stud in a Public Bar
127 – Cody Allen – Naked, Tied up, Zippered, Humiliated in Public
128 – 19 Year Old Studs! Gang Fucked, The Belt, The Wall of Cocks, Cum Facial
129 – Cody Allen Bound in Public
130 – Hazing the brand new boy in front of a crowd – CMNM style
131 – Jake Steel – beaten and thrown in an oily orgy.
132 – You shore got a purdy mouth boy…
133 – Sexy stud gets shocked, suspended, and gang fucked on the Upper Floor
134 – Captured stud is being used in a bar full of horny masked men
135 – Brian Bonds Ass Punishment
136 – Horny pig publicly Humiliated, Double Penned & shoved in birthday Cake
137 – Cruising for Sex with Micah Andrews
138 – A stud wants to be a whore in a sex shop.
139 – A furry gets beaten and gang fucked at a public bar.
140 – Unauthorized Reproduction
141 – Show Me The Money!
142 – Glory Hole Pig
143 – Gang fucked on the pool table in public
144 – I'm a whore… I need cock, cum, and pain, Sir.
145 – Dine and Dash
146 – The Crawl of Shame
147 – Sex in The Slaughter House
148 – Ripped Muscle, Fat Cock, Round Ass, Humiliated in Public
149 – Horny men take down a cocky hustler at a busy sex arcade
150 – 19 year old stud with a giant cock gets used and humiliated in public
151 – Jessie Colter gets gang banged at Mr S Leather store
152 – Horny men attack a hot pole dancer at a local strip joint
153 – Muscle stud uses and abuses his boy in front of a horny lunch crowd.
154 – Hot Gym Trainer Gets Tied up and Gang Fucked in a Porn Store
155 – The wrestler gets gang banged by a horny crowd in a public restroom for losing his match.
156 – Live Shoot: It's the best Xmas Party ever!!!
157 – Italian bodybuilder is used and humiliated at a public bar.
158 – Two boys get used and abused in a public restroom.
159 – The Brooks – gets piss in the mouth and licks cum off the dirty floor.
160 – Brian Bonds gets caught in a piss and cum fest.
161 – Studly shoplifter gets an eggplant up his ass and a face full of cum a
162 – Halloween Masquerade Party
163 – Live Shoot: Dirk Caber and 200 horny men at Folsom weekend party.
164 – Sebastian Keys gets his ass stretched and pissed on in a public bar.
165 – Use and humiliate a blond stud at Stompers Boots.
166 – Handyman with a big cock gets tied up and used by horny dudes in the locker room.
167 – Two studs drag businessman into porn shop and strip his manhood!
168 – Club Dragon
169 – Muscle slave is stripped naked, used and humiliated while hordes of people take photos.
170 – Big cock slave is publicly humiliated and caught in the cum fest.
171 – Dirty cruisers take down two innocent studs in a public toilet.
172 – Horny men jump on a beefy jock and turn him into a sex slave at a campground.
173 – Blindfolded stud sucks strangers cocks at a party.
174 – Hot Latin stripper is humiliated and used as a sex object in front of a horny crowd.
175 – Play Party at SF Citadel
176 – Use and Abuse a Camp Whore
177 – Restaurant patrons abuse a bad waiter and make him serve naked in public.
178 – Muscular sub is treated like garbage at a dungeon party
179 – Innocent man is taken into a porn shop and turned into a sex slave.
180 – Horny men attack a go-go boy at the Powerhouse bar
181 – Cocky stud gets gangbanged in a clothing store
182 – Big stud gets his ass pulverized in the slaughterhouse
183 – Muscle stud gangbanged at Club Eros sex club
184 – Perverted Punishment – Ethan Hudson
185 –
186 – Two hairy sluts get abused in a bar full of horny strangers
187 – Inside Mack Prison – Sex Club
188 – Cruising for Sex with Noah
189 – Drake Jaden swallows Girth Brooks' giant cock at the Armory party.
190 –
191 – Nordic hunk humiliated and bukkake in a flower shop.
192 – Partygoers beat and skull fuck a big dick stud in bondage.
193 – Latin hunk gets double penetrated at Folsom Gulch porn store.
194 – Ripped boy gets his hole shocked and filled at Mr. S Leather Store.
195 – Straight stud's butthole gets violated by the Gay Mafia in the paint shop.
196 – A slutty back-talker gets used and abused in front of a crowd at Steamworks bathhouse.
197 – Trent Diesel gets tied up, beaten and gangbanged at Helios Resort
198 – Perverted Punishment – Brenn Wyson
199 – Cruising for Sex with Riley
200 – Bound and Humiliated at Helios Resort
201 – Adam Knox gets caught in a cum fest
202 – Ex-Military gets fucked in the crowded locker room
203 – Shaved and fucked in a busy barbershop
204 – Folsom Street Trash
205 – Gym Rat and The Gay Mafia
206 – Use the stud's uncut cock as a shot glass at a public bar!
207 – The Nob Hill Theater Slut
208 – Live Shoot: Bound In Public Launch Party
209 – Car Whore
210 – Ned and The Gay Mafia
211 – Cruising for Sex with Troy
212 – The Sacrificial Cum Whore – Halloween Update
213 – Bar Whore
214 – Trent Diesel's Ultimate Fantasy
215 – Dore Alley Pig
216 – Vennue and The Gay Mafia
217 – Gay Night on The Upper Floor
218 – Young stud is bound for the first time at Mr. S Leather
219 – Cruising for Sex with Cameron
Enjoy this Exclusive Public Gay Video Collection From BoundInPublic.com on TopSiteRip.net!
Few Screens for Preview